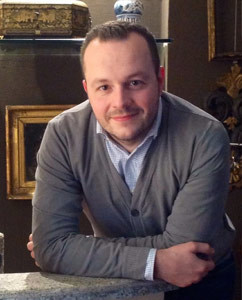 Peter Ratti was born in 1976, he was formed artistically at restoration institutes and art workshops.
He is specializes in paintings' restoration and gilding in gold leaf, was trained as an art consultant in italian forniture of 18th century.
His interpretation of restorations is to intervene as little as possible, preserving the originality of the piece, using techniques and materials that are reversible, to have a minimal impact to the items.
The passion for the frames, has led him to create reproductions; the study of ancient artifacts, in all their characteristics, applied to his artistic production, it has allowed him to create objects close to the authentic ones.
Materials, ancient techniques executions, finishes and details, are all elements that contribute to the realization of the object agreed.